Organized jointly by
Systems Science and Informatics Unit (SSIU) Indian Statistical Institute-Bangalore Centre, India
ESIEE Engineering, Université Paris-Est, France

This course of Four Days duration is scheduled during 19-22 October 2010, and would be held at Systems Science and Informatics Unit (SSIU) of Indian Statistical Institute-Bangalore Centre. This course is being co-organized with ESIEE of University of Paris. Course instructors include:

Jean Serra, ESIEE Engineering, Université Paris-Est
Jean Cousty, ESIEE Engineering, Université Paris-Est
B. S. Daya Sagar, Systems Science and Informatics Unit, Indian Statistical Institute-Bangalore
Laurent Najman, ESIEE Engineering, Université Paris-Est
Course Instructors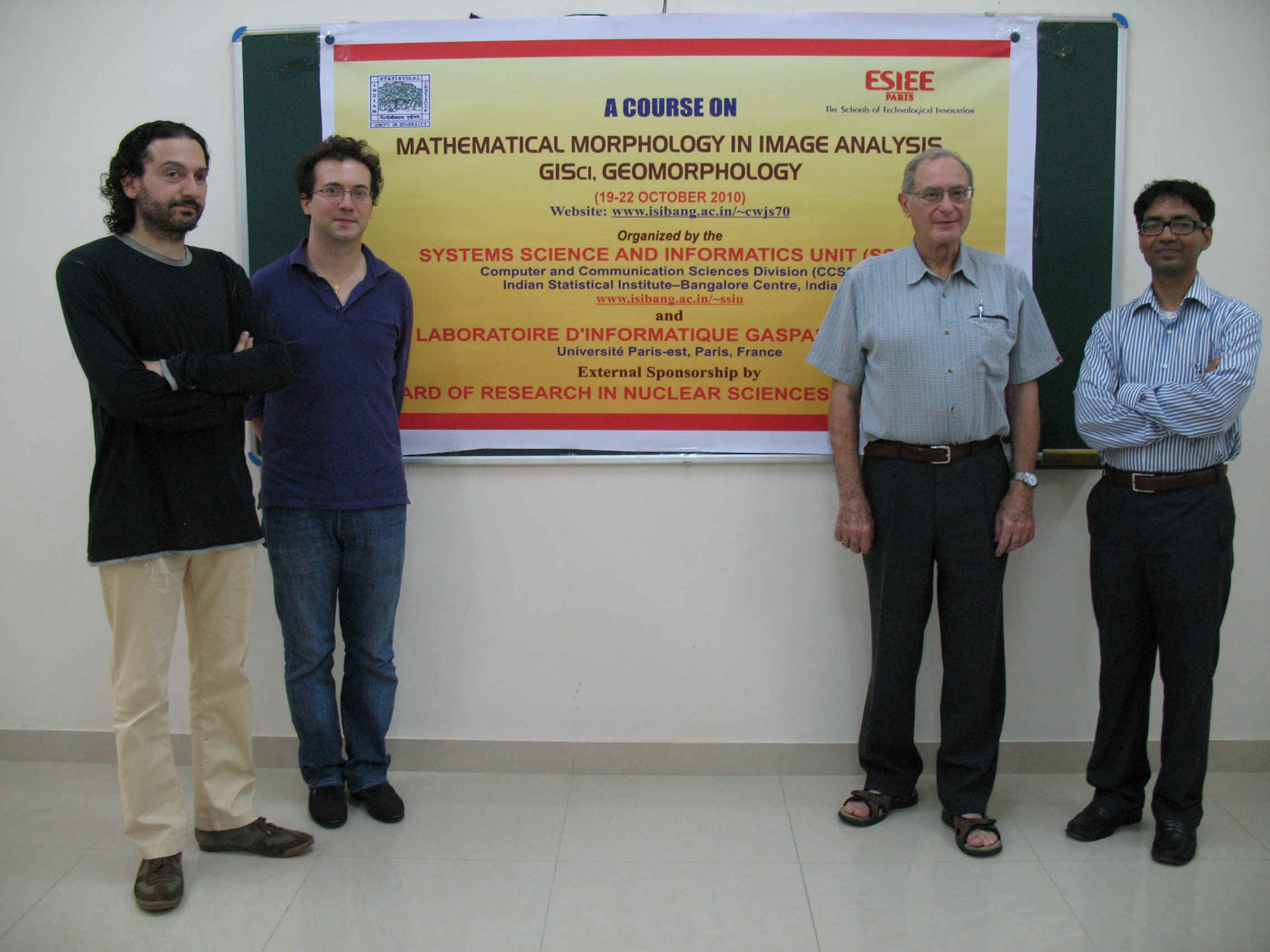 (L to R): Laurent Najman, Jean Cousty, Jean Serra and B. S. Daya Sagar
There will be (i) lectures in the first session of the day (10.00 am- 1.00 pm), and practical training in the second shift of the day (2.30pm-5.30pm). Several demonstrations and case studies related to applications of mathematical morphology would be covered during practical training.

The following topics will be addressed:
Erosion, dilatation, opening, closing, granulometries, gradients, top-hat.
Morphological filtering.
Geodesy, connected operators, levellings.
Segmentation: watershed, hierarchical segmentation, ultimate opening.
3D images, image sequences.
Colour processing.
All these notions will be illustrated through many examples, selected from different application domains. The manipulation of  images during practical training in the afternoon allows a full understanding of the studied notions. You will find allthe necessary information, including a registration form, on our website: http://www.isibang.ac.in/~cwjs70
Organisers: Systems Science and Informatics Unit (SSIU), Indian Statistical Institute-Bangalore Centre, India, and ESIEE Engineering, Université Paris-Est.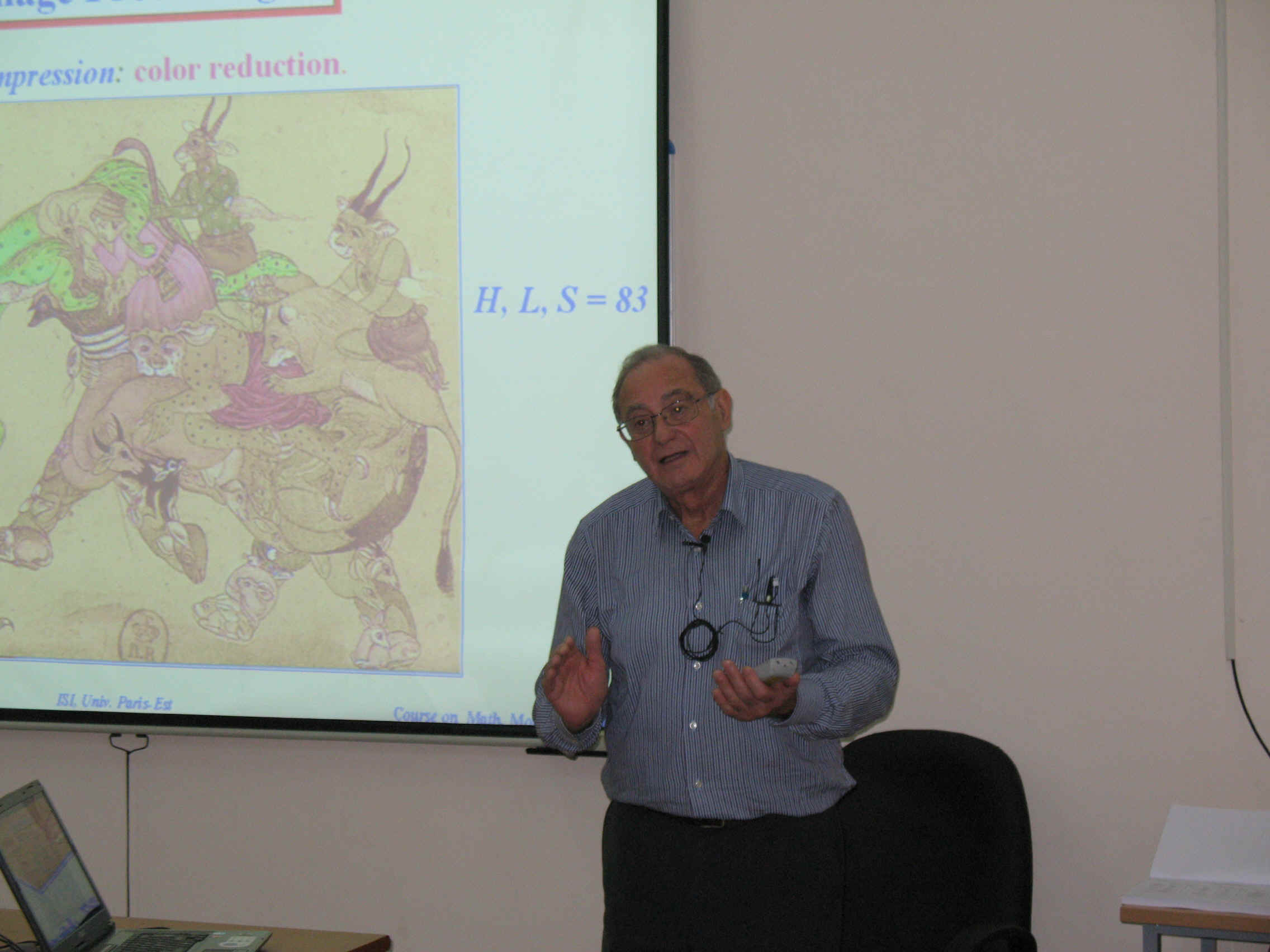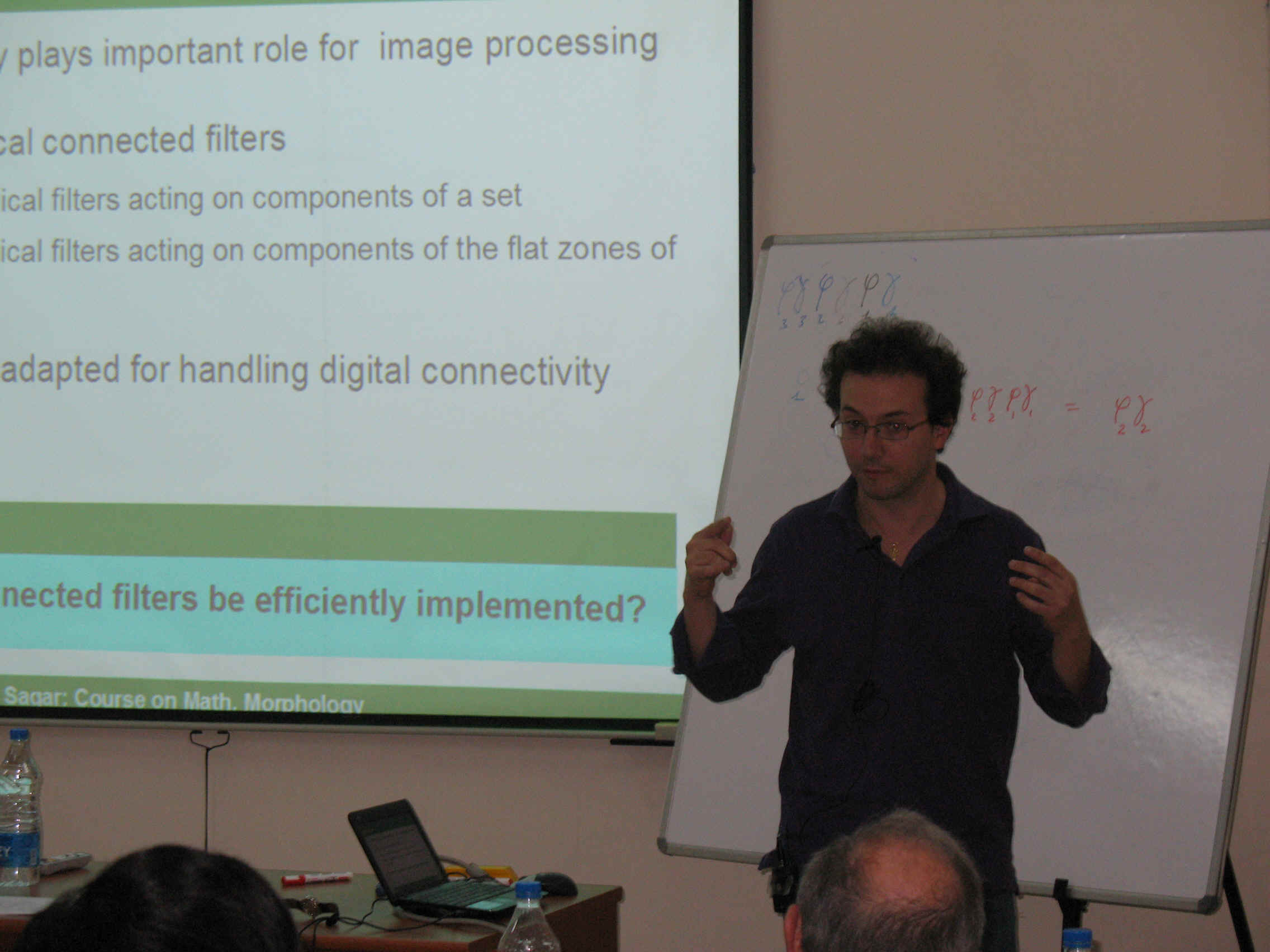 Jean Serra Jean Cousty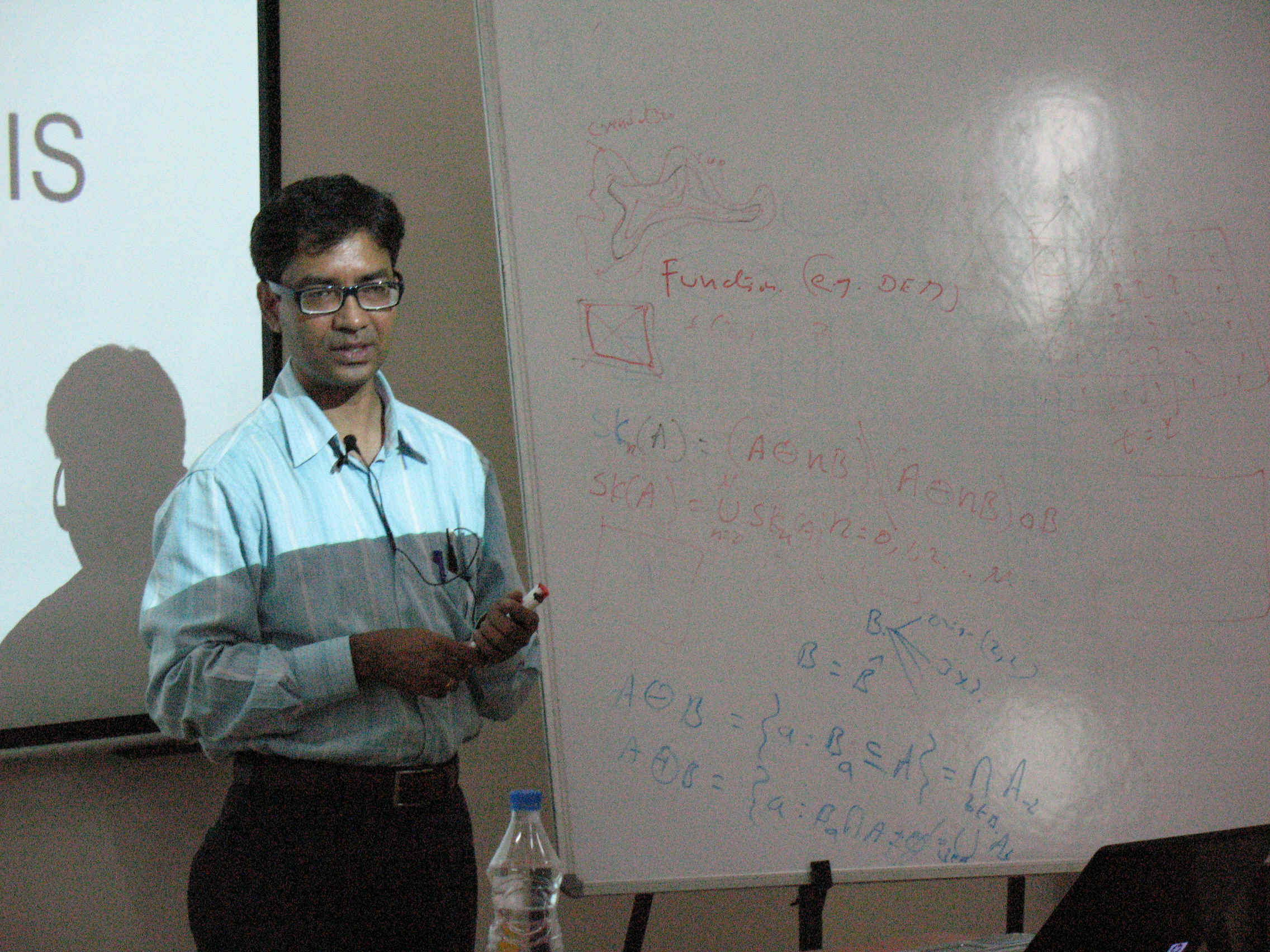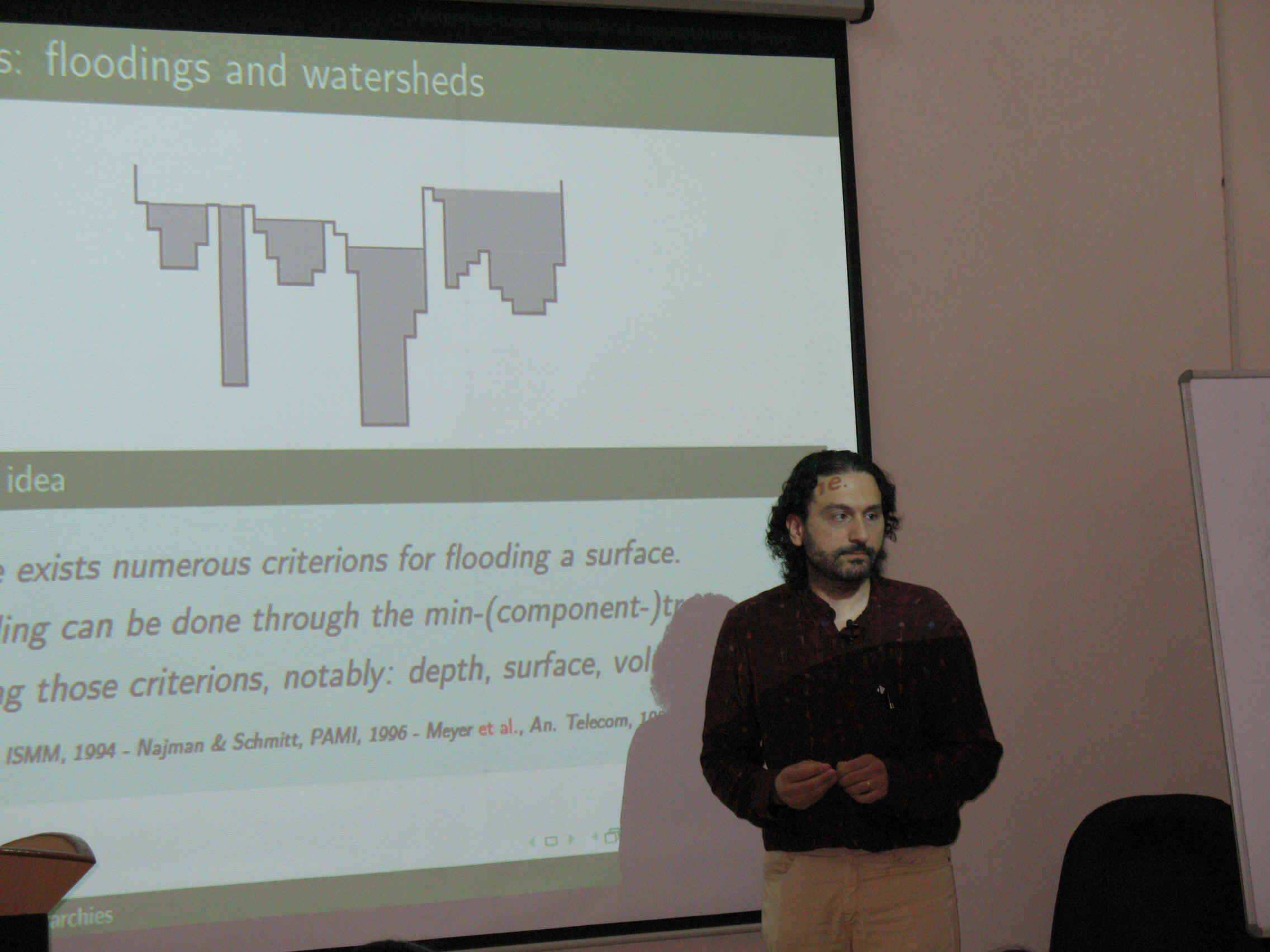 Daya Sagar Laurent Najman

Committee
Time Table
Course Material: 1, 2, 3, 4, 5, 6, 7, 8, 9, 10, 11, 12
Practical Session
Participants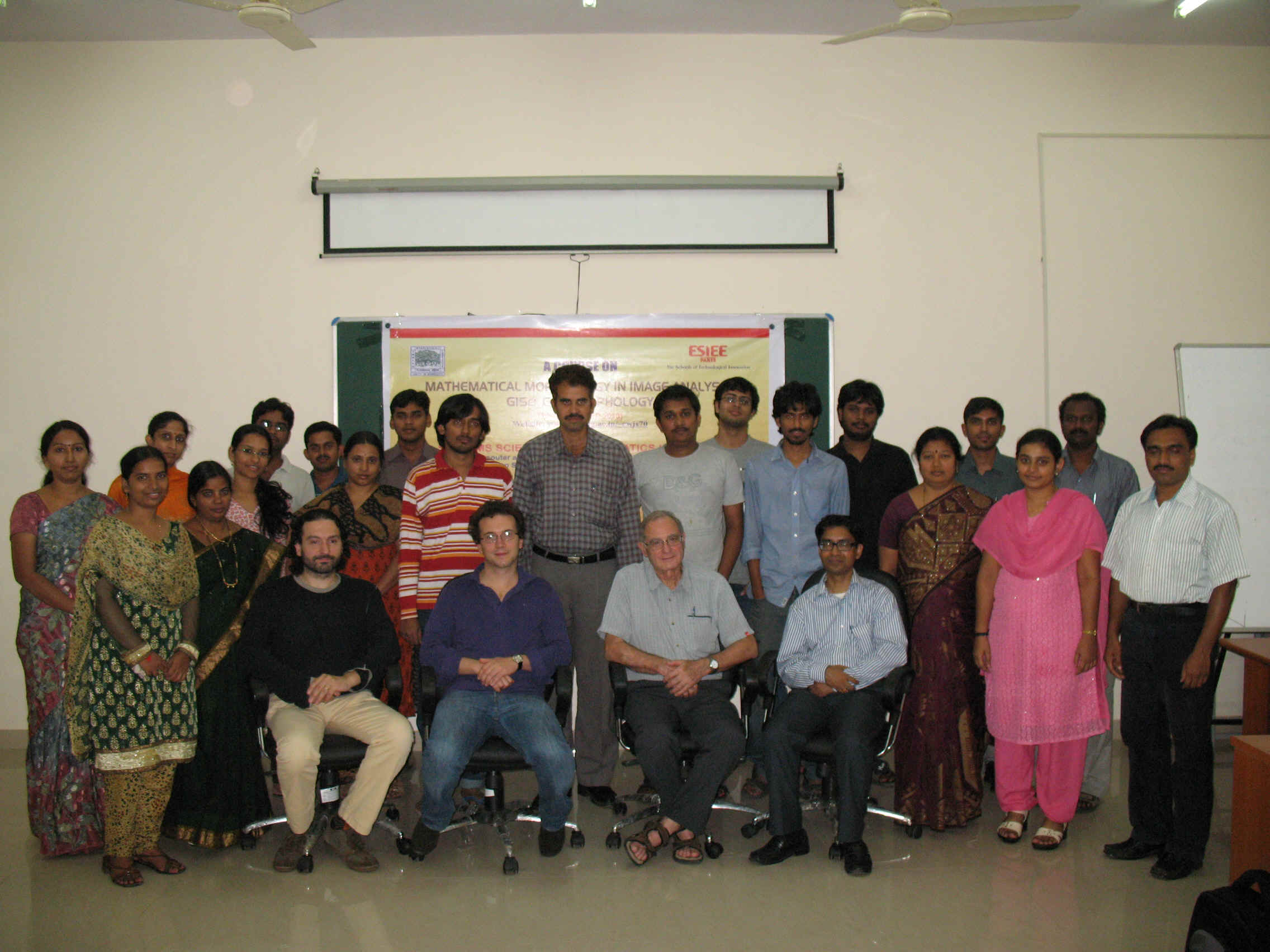 Registration: Registration for Course (19-22 Oct) is CLOSED, at 1.45PM on 30 September 2010, as the required number of participants has already registered.
Venue: Indian Statistical Institute, Bangalore Centre
Sponsor: Board of Research in Nuclear Science (BRNS)
Important Contact Details
Some Photos: Banner, First-Day of Course, Jean Serra Lecturing, Jean Cousty Lecturing, Daya Sagar Lecturing, Laurent Najman Lecturing, Participants Attended, Instructors with Participants.
Conveners: B S Daya Sagar, Systems Science and Informatics Unit, Indian Statistical Institute-Bangalore and Jean Serra, ESIEE Engineering, Université Paris-Est.
Contact Details of Instructors:
Dr. Jean Cousty
Bureau 5307
Département Informatique
ESIEE Paris, Cité Descartes BP 99, 93 162 Noisy-le-Grand cedex
+33 1 45 92 60 28
http://www.esiee-paris.fr/en/
Dr. Jean Serra
Bureau 5307
Département Informatique
ESIEE Paris, Cité Descartes BP 99, 93 162 Noisy-le-Grand cedex
http://www.esiee-paris.fr/en/
Dr. Laurent Najman
Bureau 5307
Département Informatique
ESIEE Paris, Cité Descartes BP 99, 93 162 Noisy-le-Grand cedex
http://www.esiee-paris.fr/en/
Dr. B. S. Daya Sagar, Systems Science and Informatics Unit (SSIU)
Computer and Communication Sciences Division (CCSD)
Indian Statistical Institute, Bangalore Centre
8th Mile, Mysore Road, RVCE PO
Bangalore 560 059, India
Home Page: http://www.isibang.ac.in/~bsdsagar

Felicitation to Prof. Jean Serra
by
Prof. Sankar K Pal
Distinguished Scientist, Former Director of Indian Statistical Institute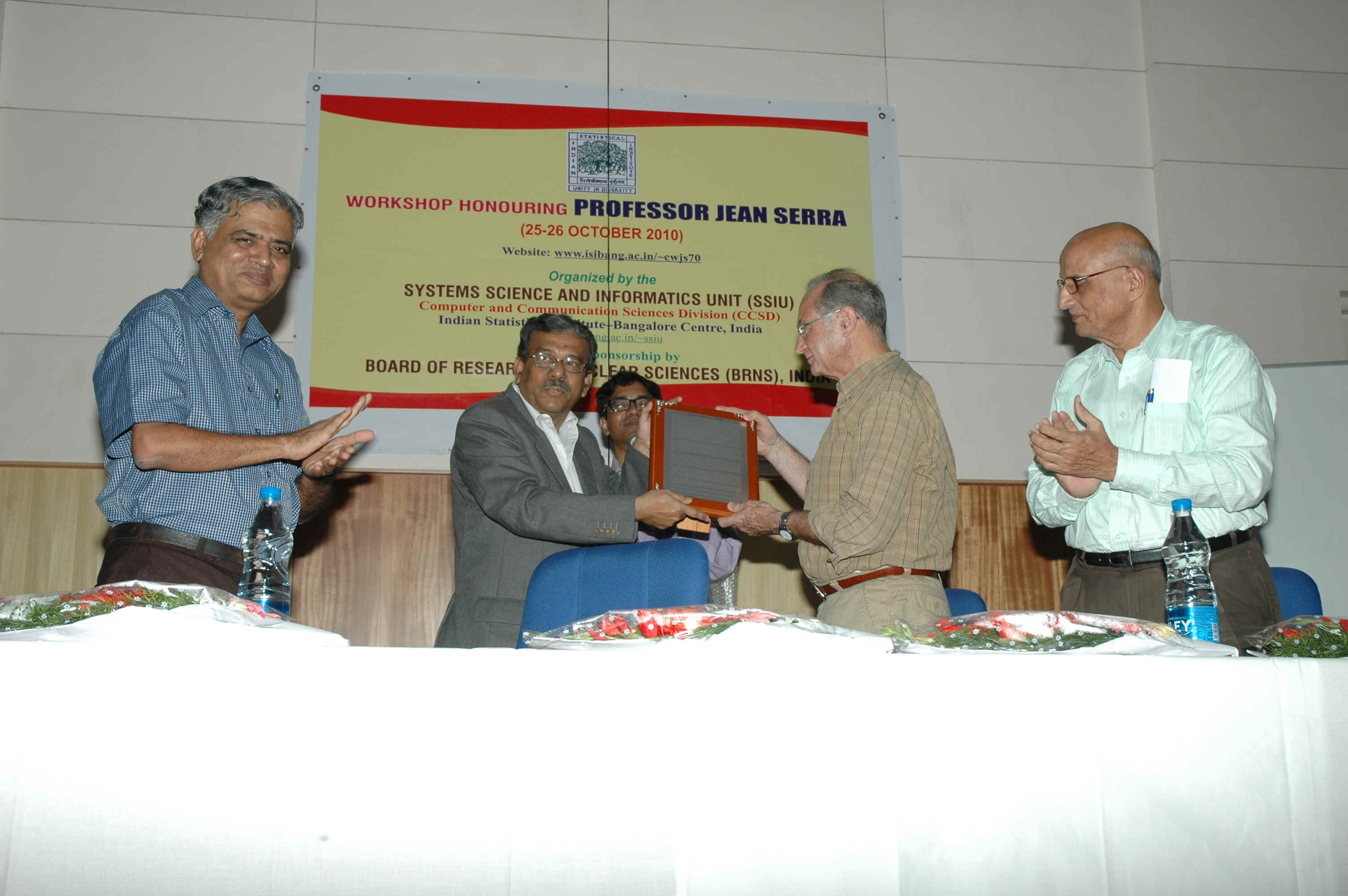 (L to R): NSN Sastry, Sankar K Pal, BS Daya Sagar, Jean Serra and BL Deekshatulu
Felicitation
by
Padmashree Prof. B L Deekshatulu
ISRO Distinguished Professor, University of Hyderabad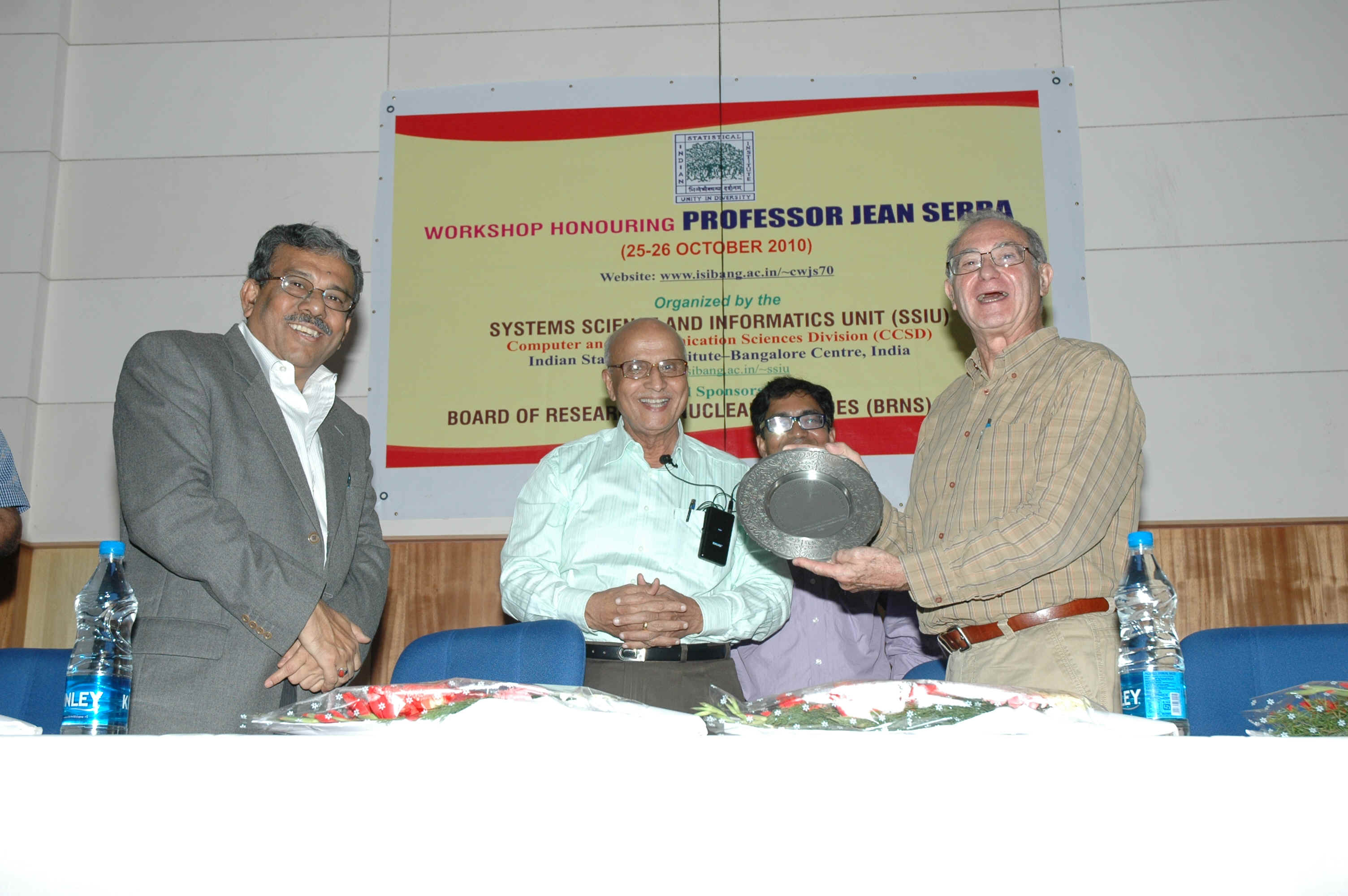 (L to R): Sankar K Pal, BL Deekshatulu, BS Daya Sagar, Jean Serra
Special Talk
by
Prof. Jean Serra
Emeritus Professor, ESIEE-Engineering, Universiti Paris-Est
Former Director of Centre for Mathematical Morphollgy, Fountainbleau, France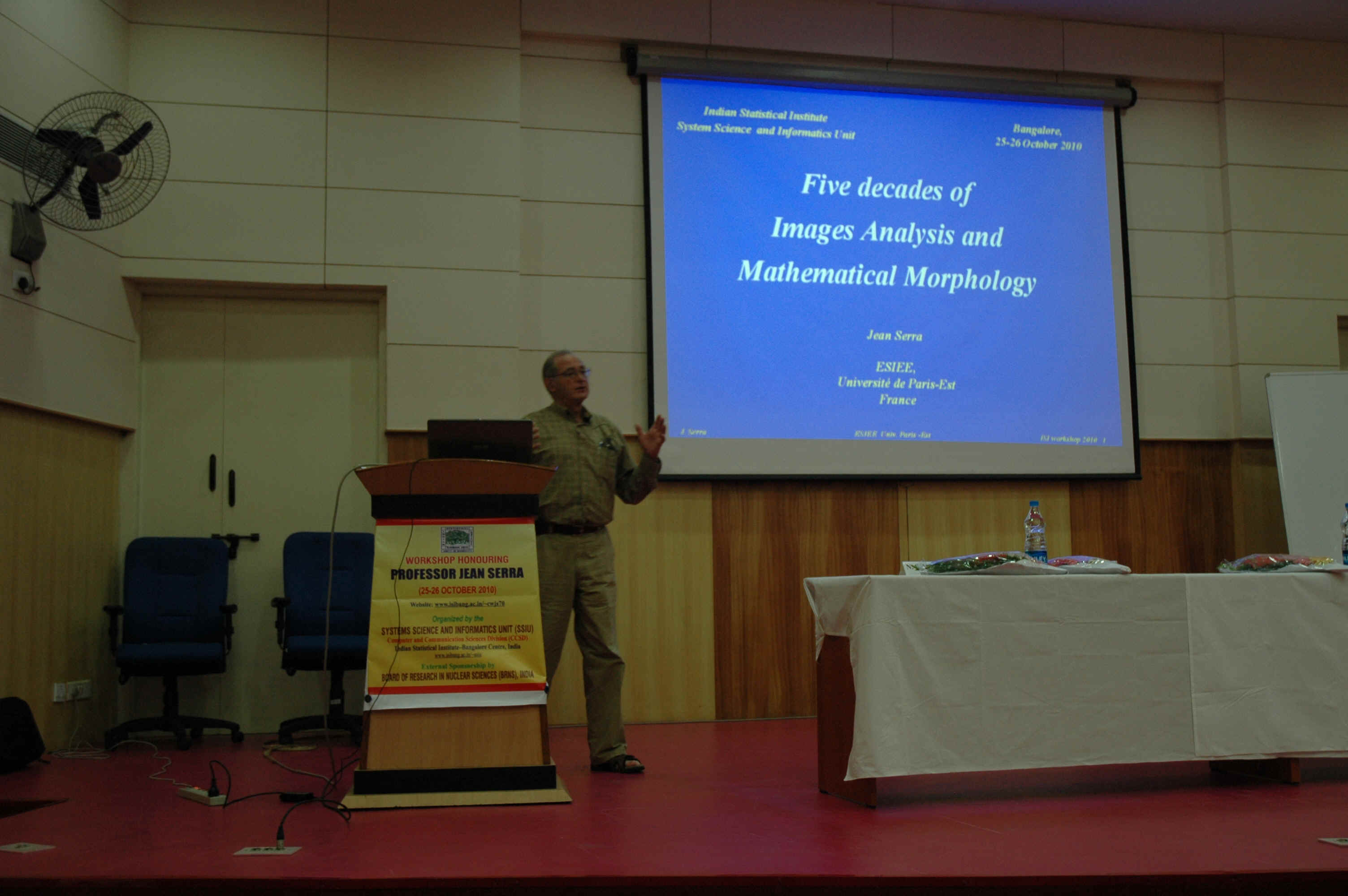 Several Invited Talks
by
Eminent Scientists

Workshop Schedule

Citation on Wooden Plaque with Commemorative Inscription about Jean Serra

A Shield presented to Jean Serra during Workshop Honouring Jean Serra

Jean Serra

Local Organizing Committee

Advisory Committee

Felicitation to Prof. Jean Serra

Presentation Slides: 1, 2, 3, 4, 5, 6, 7, 8, 9, 10, 11, 12

Some Photos: Banner, Inaugural Session, Jean Serra Felicitation by SK Pal, Jean Serra Felicitation by BL Deekshatuly, Jean Serra's Special Talk, Talks by Chakravarthy, Babu Rao, Pedro Pina, Sagar, Chanda, Nandy, Choudhuri, Rama Rao, Cousty, Uma, Najman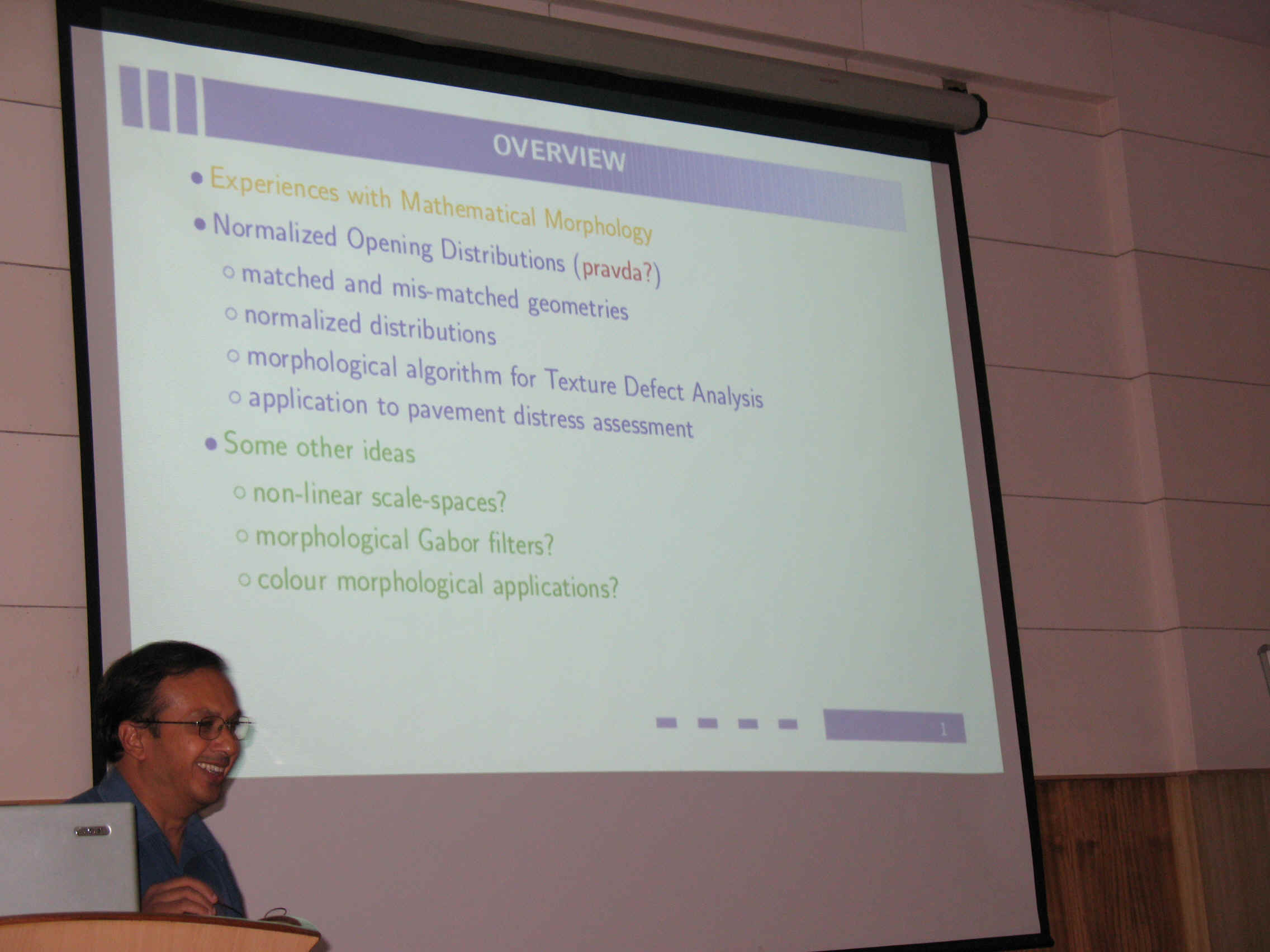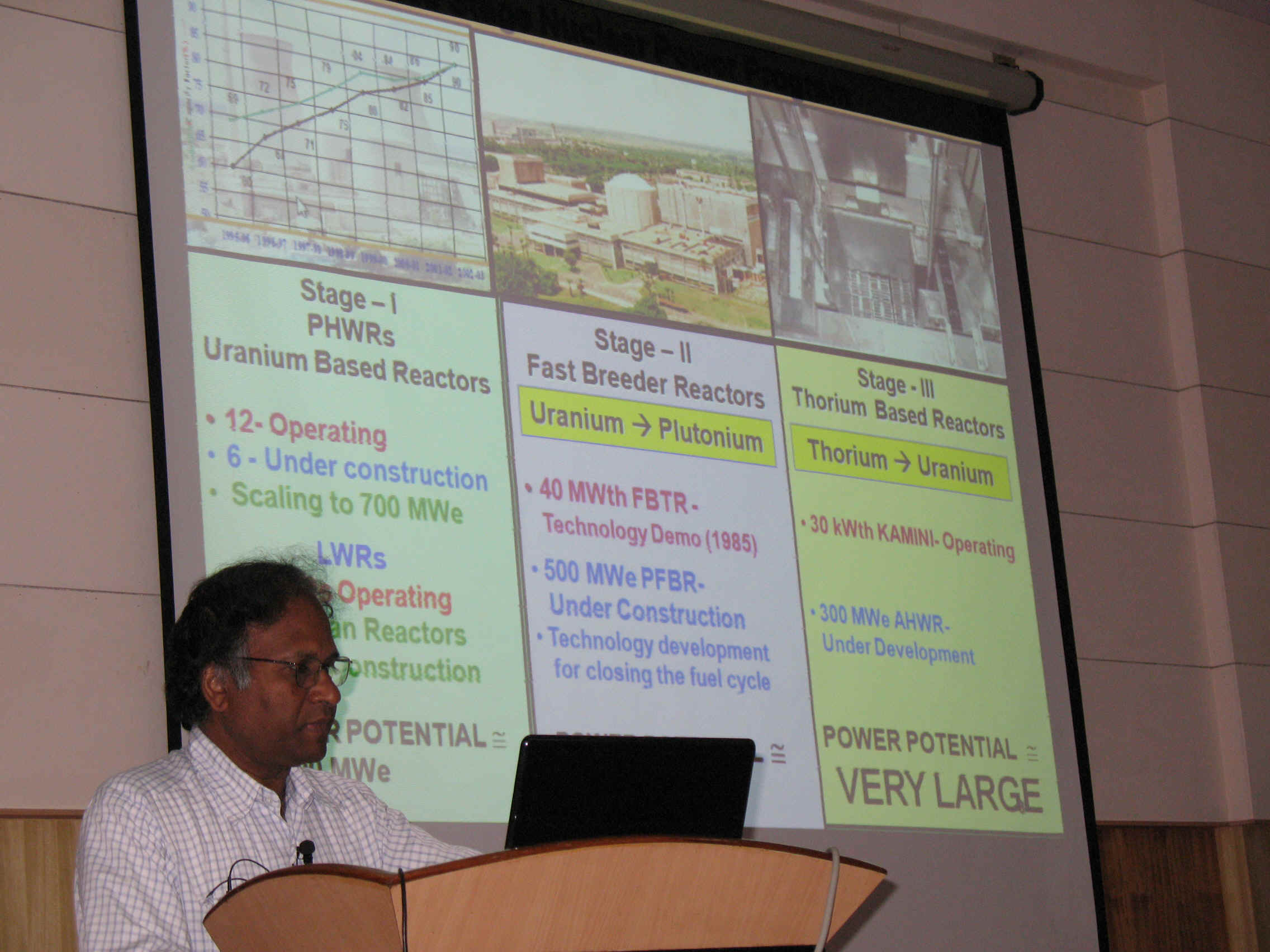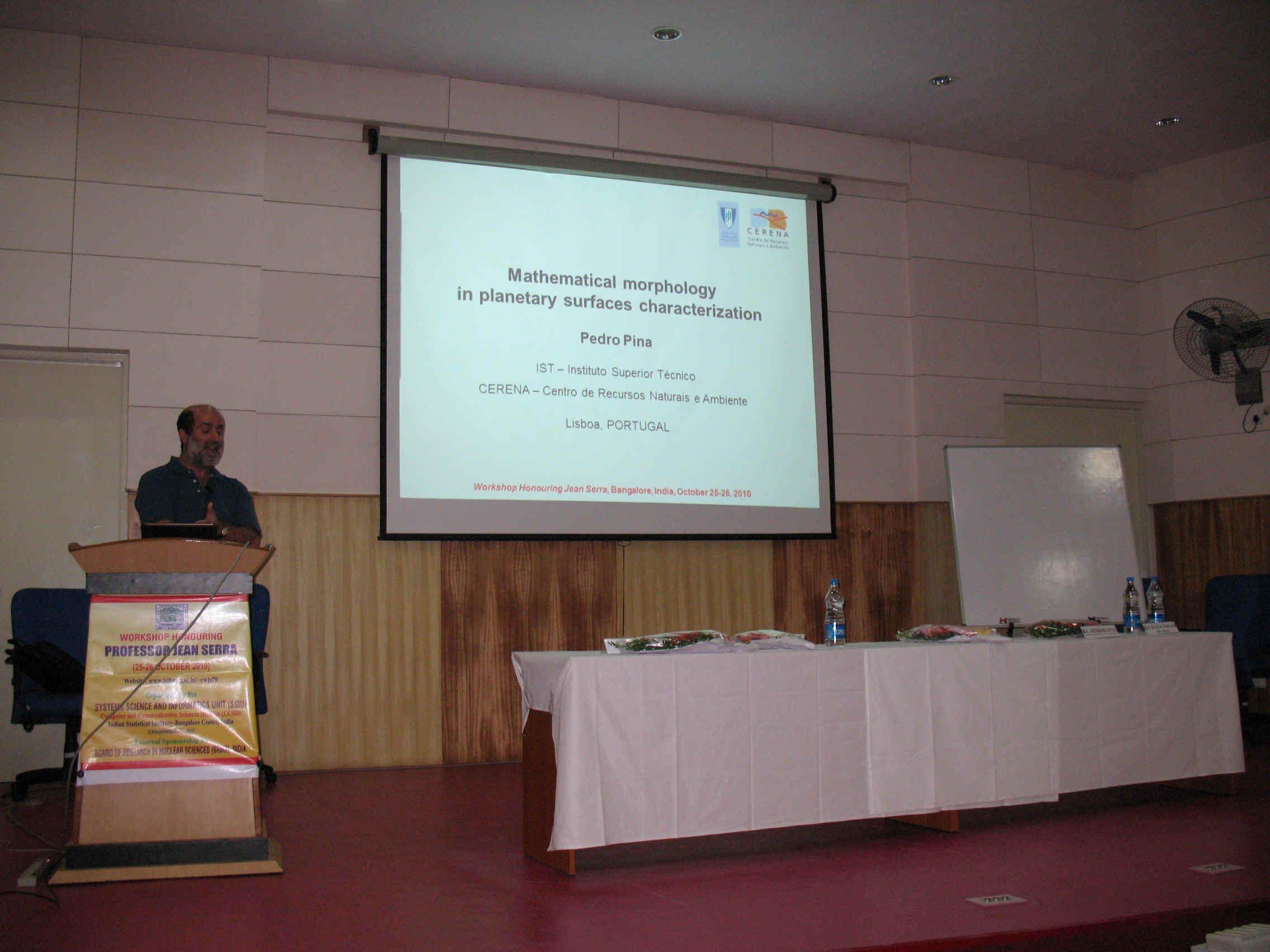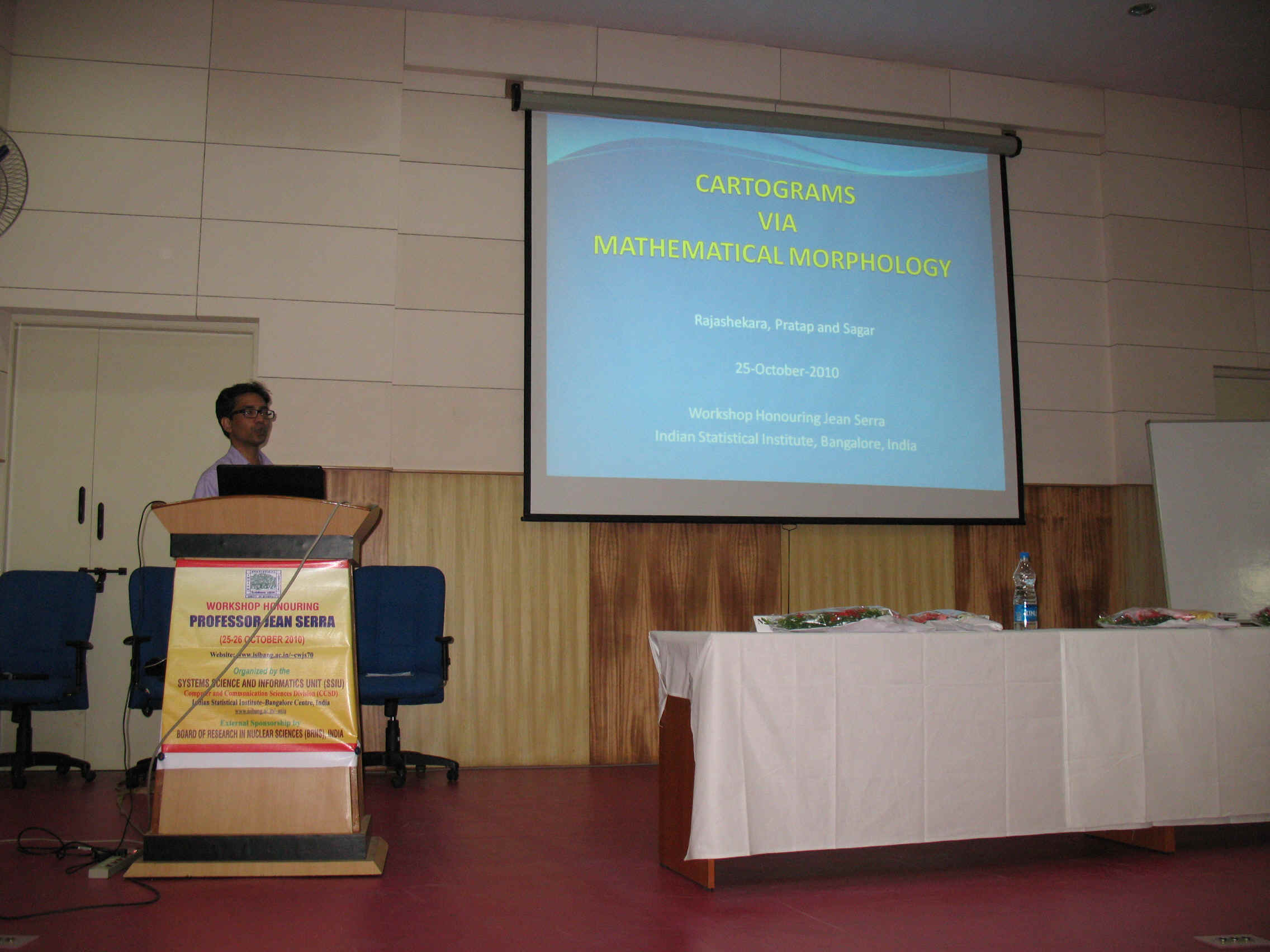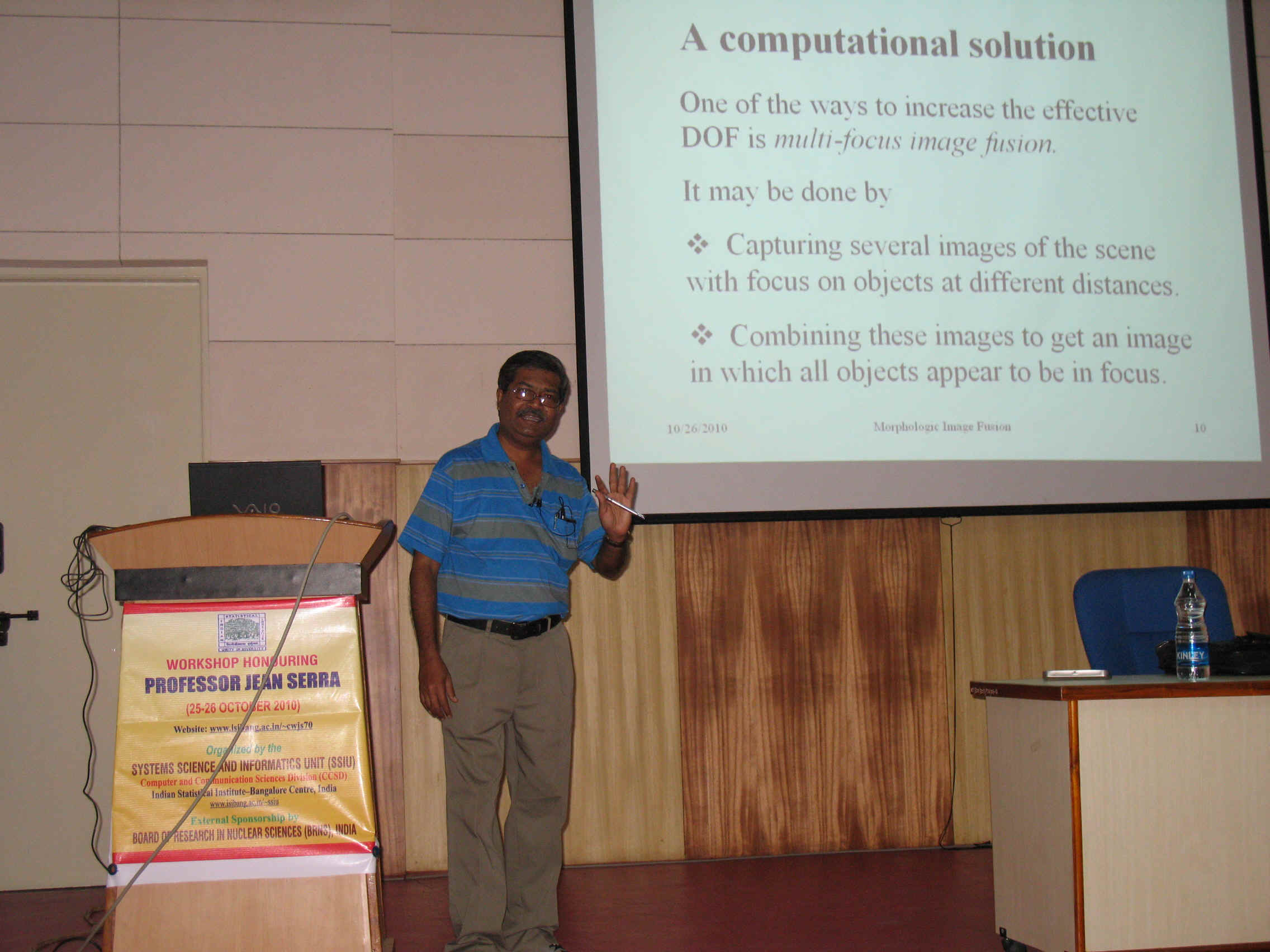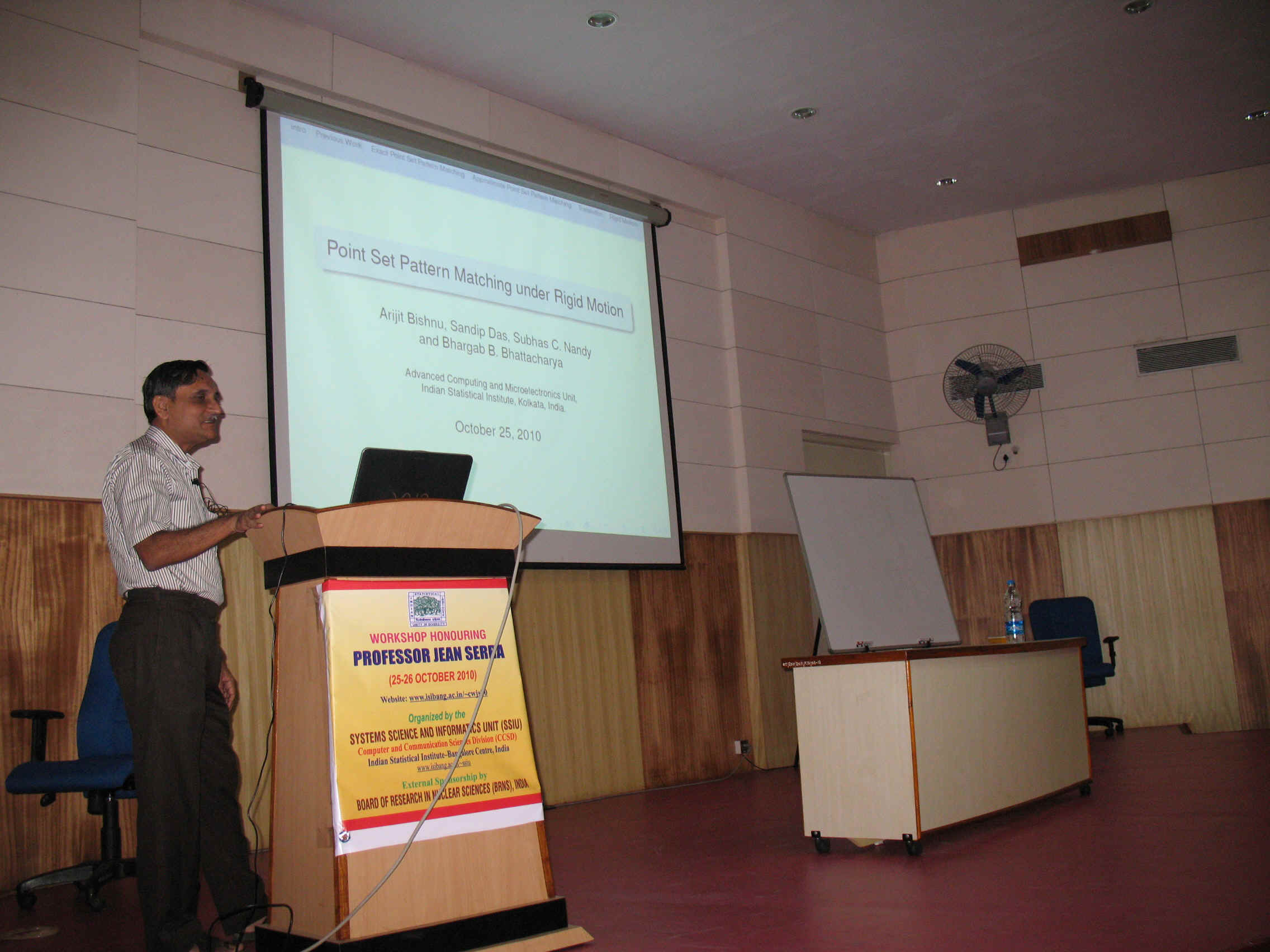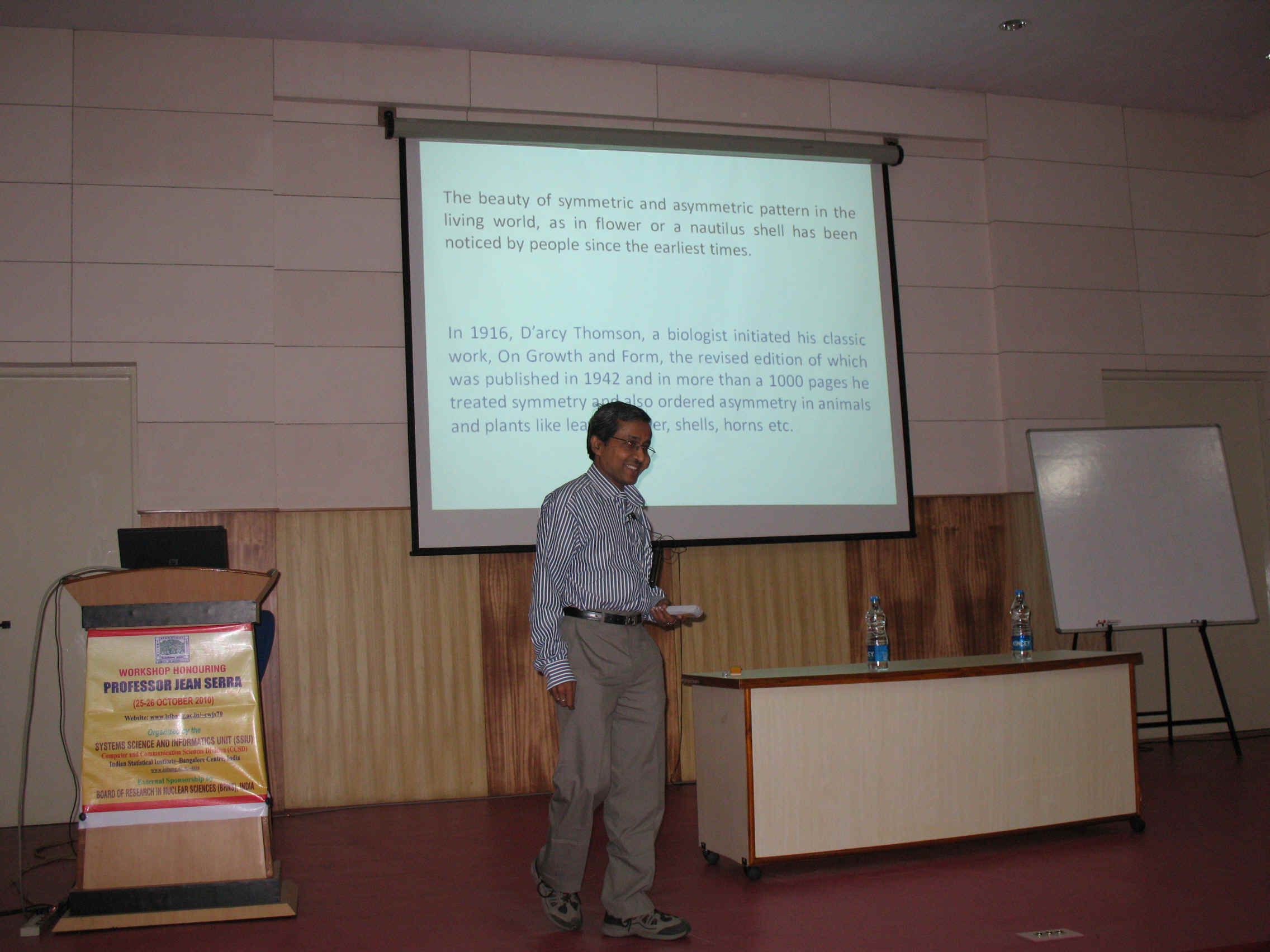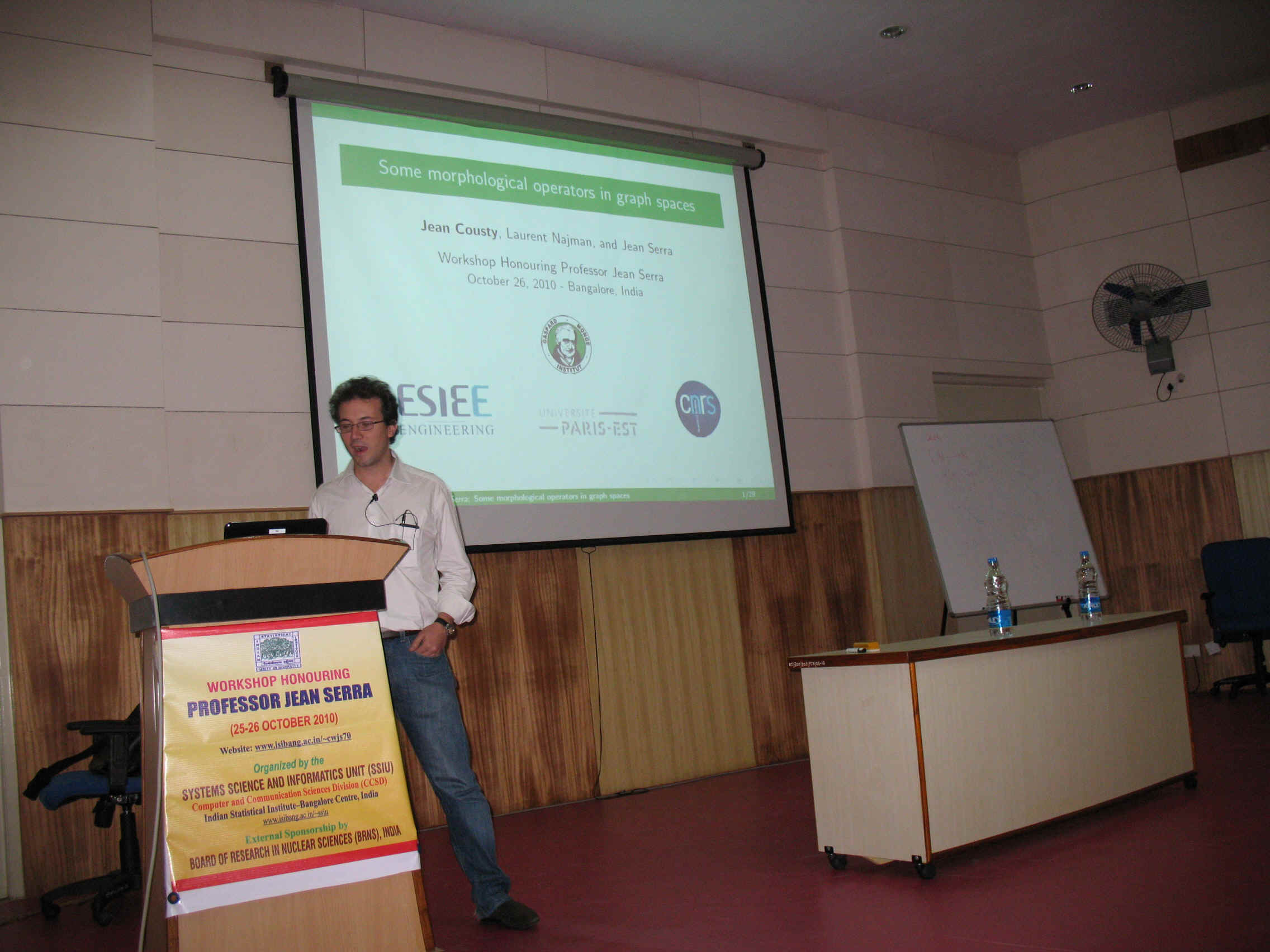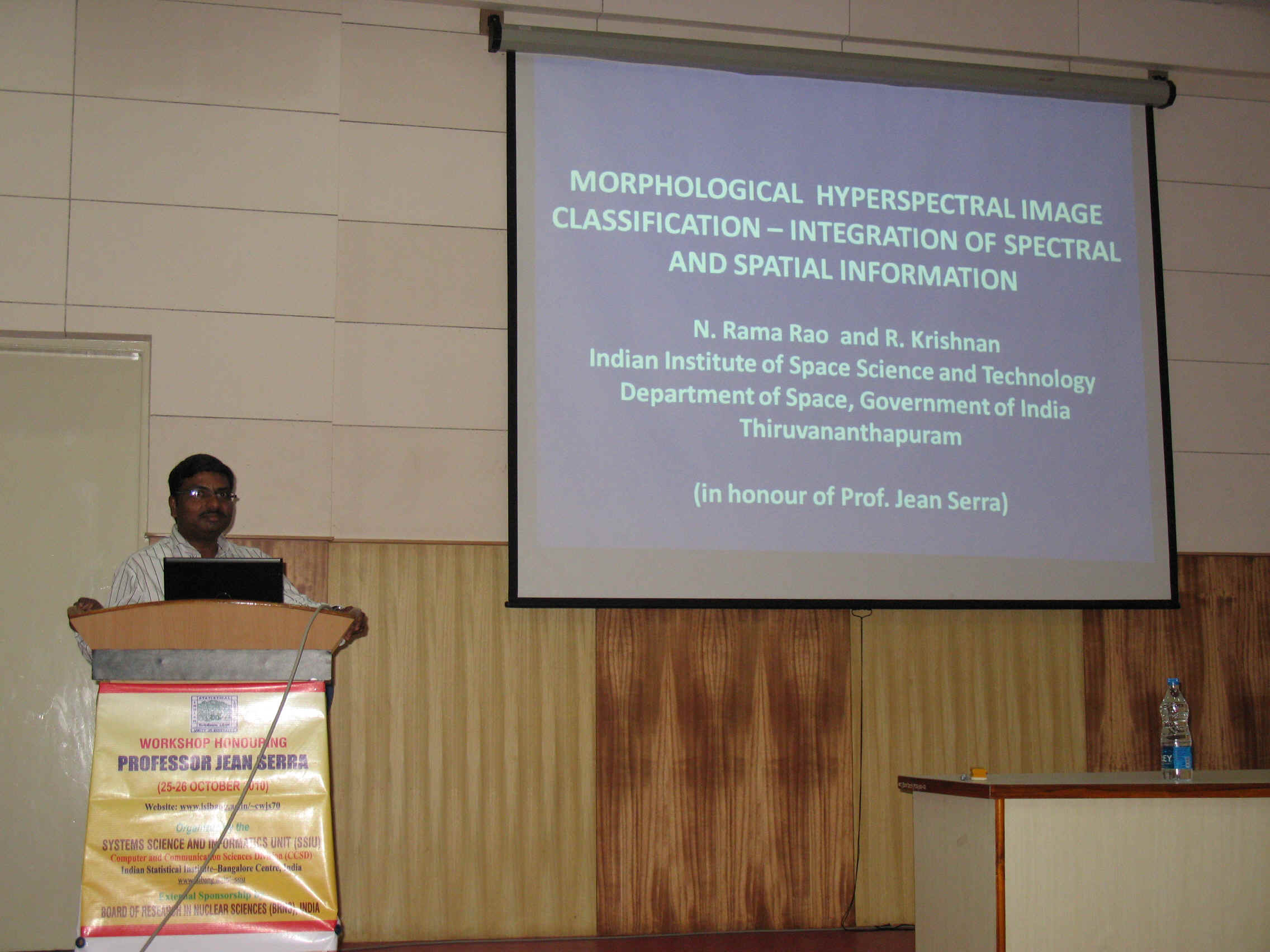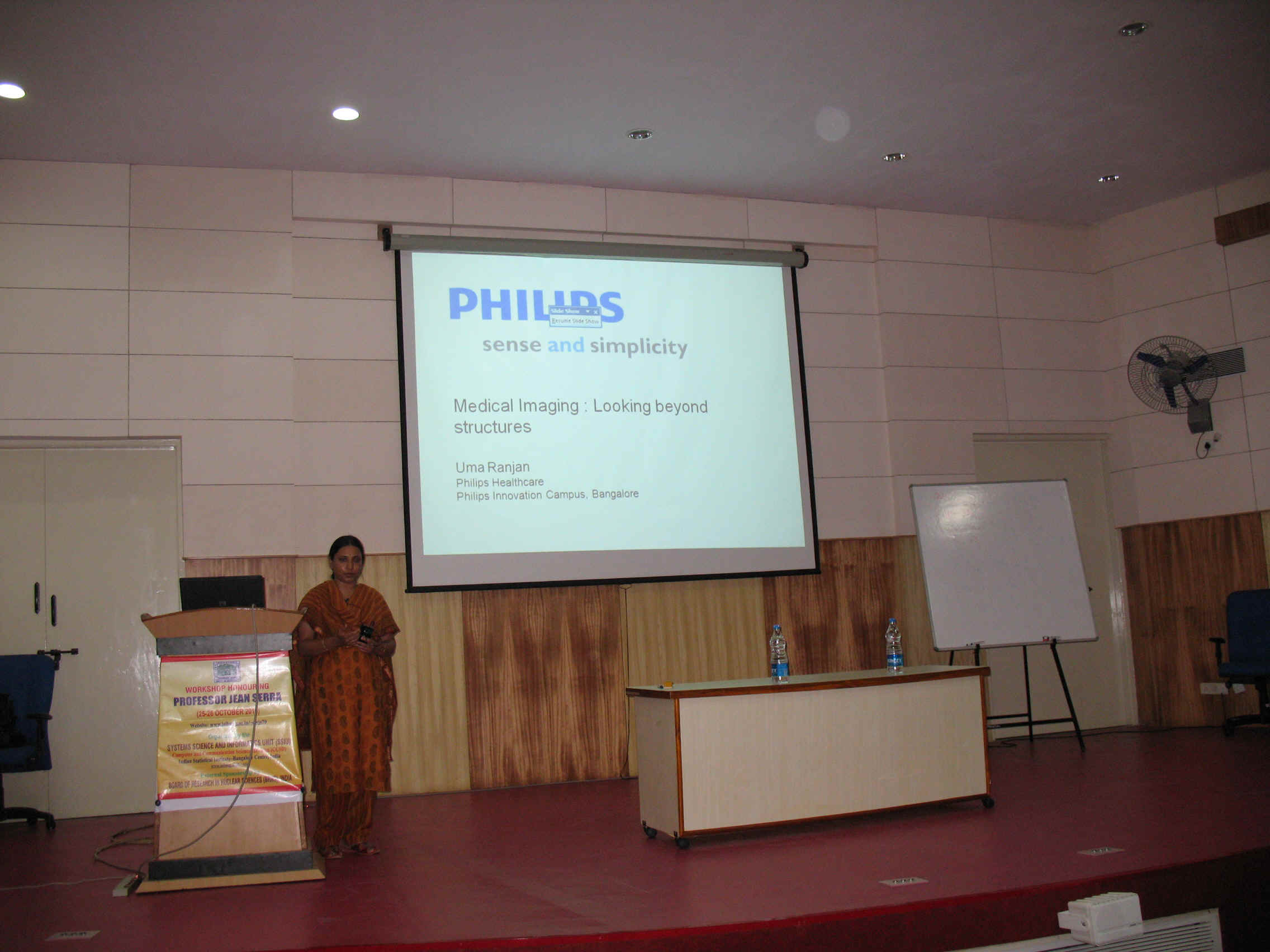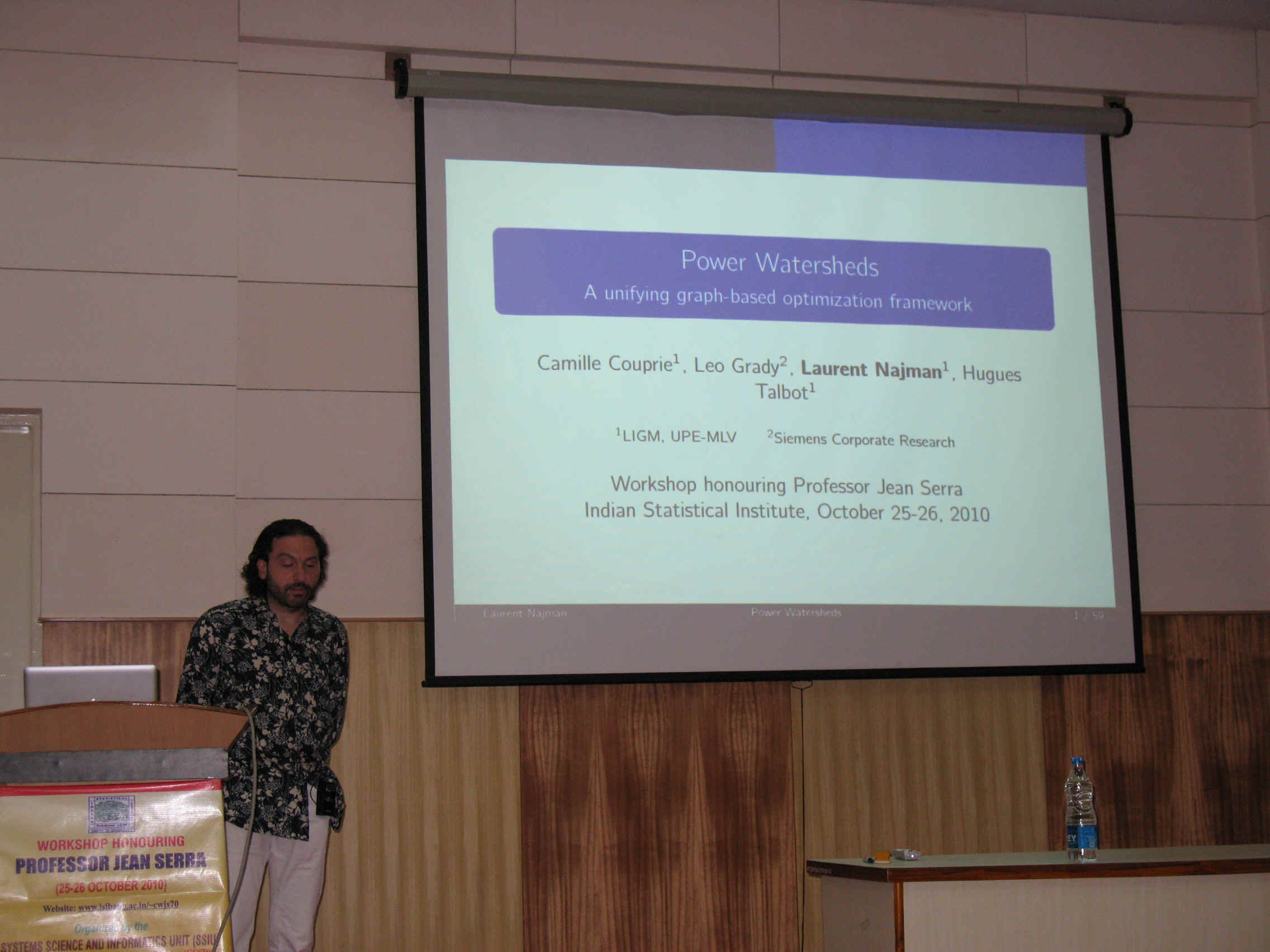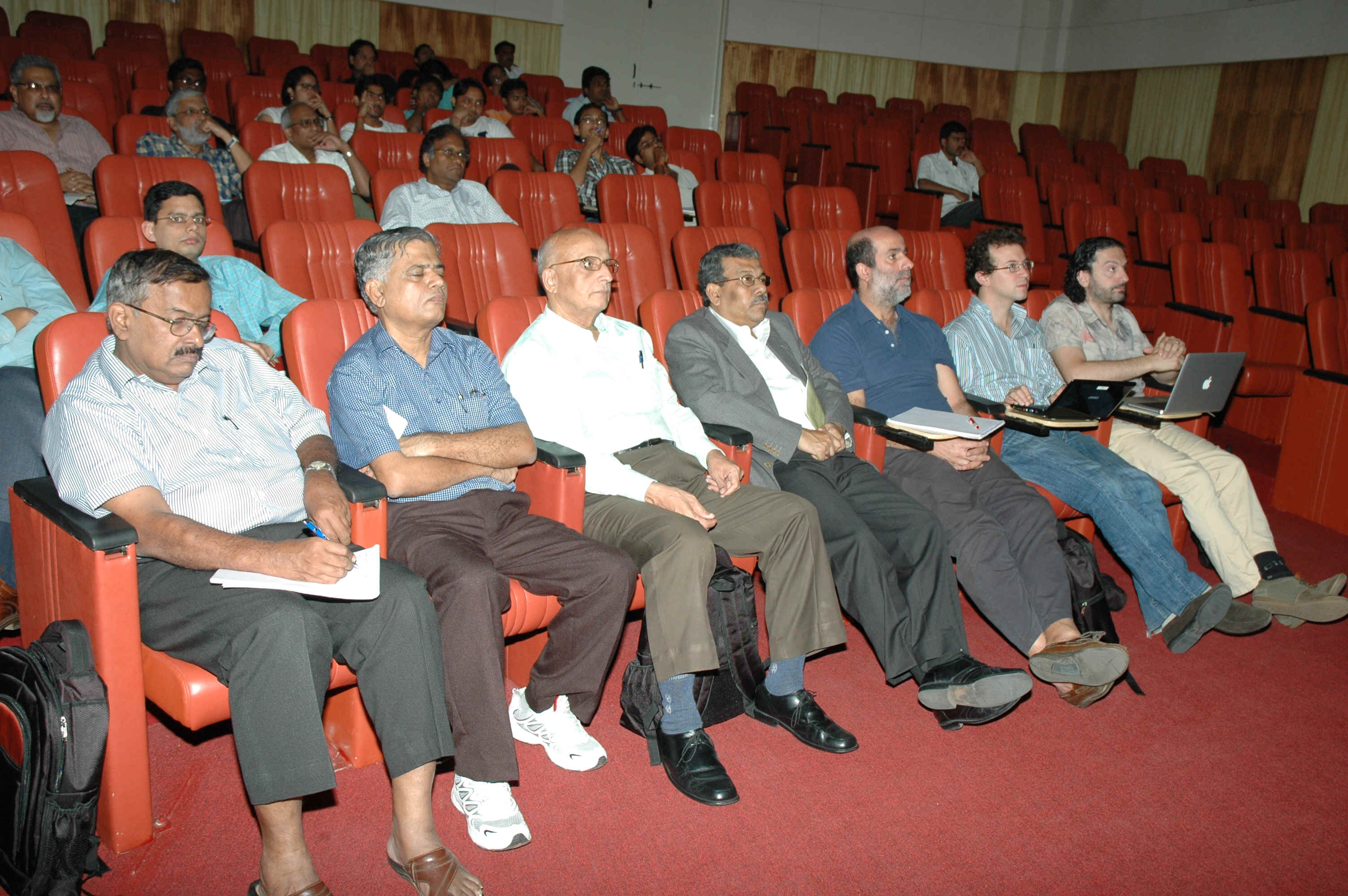 Registration: Those who want to participate in the Two-Day Workshop Honouring Jean Serra (25-26 October) can still register.

Invited Speakers

Venue: Indian Statistical Institute, Bangalore Centre

Sponsor: Board of Research in Nuclear Science (BRNS)

Important Contact Details

Program Committee