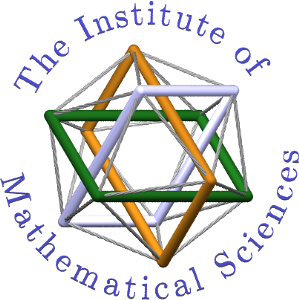 Complex Geometry and Operator Theory
Indian Statistical Institute, Bangalore
December 01-03, 2015
Sponsored by
Indian Statistical Institute and Institute of Mathematical Sciences
Home | Participants | Schedule | Accommodation
Schedule

 

9.45-10.25
10.30-11.10
11.10-11.45


TEA

11.45-12.25
12.30-13.10
13.10-14.45


LUNCH

14.45-15.25
15.25-16.00


TEA

16.00-16.40
16.40-17.15
Tuesday
December 1
9.30-10.15- Registration
10.15-10.25- Welcome
Bagchi
Kumar
Patnaik
Mahan
Bhattacharyya
Coffee and Snacks
Wednesday
December 2
Madan
Nadkarni
Bharali
Shalit
Bhatia
Dani
Coffee, Cake and
Felicitation (17.15-19.15)
Thursday
December 3
Timotin
Krishna
Chavan
Verma
Kui Ji
Sinha
Coffee, Snacks and
Close of Conference
Speakers:

Bhaskar Bagchi
Gautam Bharali
Rajendra Bhatia
T. Bhattacharyya
Sameer Chavan
S. G. Dani
Kui Ji
Surjit Kumar
Sasmita Patnaik
Shobha Madan
Krishna Maddaly
Mahan Mj
M. G. Nadkarni
Orr Shalit
Kalyan B Sinha
Dan Timotin
Kaushal Verma
Information:
(1) Titles and Abstracts (Updated on November 07, 2015)
(2) Each talk is of 35 minutes duration with additional 5 minutes for discussion.
(3) All talks will be held in the Main Auditorium (2nd floor of Academic building) of ISI. The Auditorium is equipped with blackboards, computers and LCD projectors.
(4) Traditional special dinner at ISI canteen - Tuesday, December 1 at 8.00 p.m.
(5) Conference dinner at The Club - Wednesday, December 2 at 8.00 p.m. onwards.
(6) Photo session - Wednesday, December 2 @17.15
---
---