Overall Location
ISI is located about 50 kms South west of airport and 12 kms South west of central railway station. It takes 1-2 hrs from airport (depending on time of day) and about 30-45 minutes from central railway station.

Popular Landmarks
Bangalore University.
RV College.
There is a bus stop adjacent to the institute, which is popularly known as Jayram Das bus stop.

For exact location of these landmarks, please view our interactive Google powered map.

Reaching the Institute:

If you are arriving by car/taxi then (going west) on Mysore road after crossing Bangalore University gate,(about 300meters onward), you will see a break in the middle median of the road. Turn right and pass the railway crossing. As soon as you pass the crossing you can follow the signs to the institute main gate.

From Airport: As you come out of the baggage claim area, just outside the terminal you will find taxis run by Meru Cabs and Easy Cabs. You can specify your destination as near R.V. College/Bangalore University on Mysore Road. Then follow the above paragraph with regard to reaching the Institute. The cabs are metered and the driver will give you a receipt for the fare paid.

App based taxis : OLA and UBER, among others have service in Bangalore and at airport as well. You may follow signs to their pick up points at the airport if you are using them.

There are air conditioned busses as well. You should take the one to Vijayanagar Bus stand and then take an taxi/autorickshaw from there to the institute.



From Bangalore City station: As you come out of the station to your left are the Prepaid Auto and Taxi Stand. Across the station is the Majestic Bus stand and you can take bus no. 222A and it will drop you at Jayaram Das Bus stand.

Or you can use Namma Metro, which has stops at Jnanabharathi and Pattanagere from Bangalore City railway station. The distance from Pattanegere metro station to ISI is approx. 1.2 kms. Metro is operational from 6.00 AM to 10.00 PM.
Contact Information

Stat Math Unit
Indian Statistical Institute
8th Mile Mysore Road
Bangalore 560059

Phone: 91-80-26985440
Fax: 91-80-2848 4265
Email: statmath AT isibang DOT ac DOT in


---

Important Extension Numbers

Security Gate : 26985332
Statmath Office : 26985440


---
Interactive Google powered map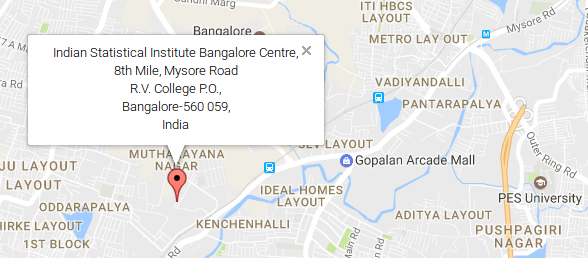 ---